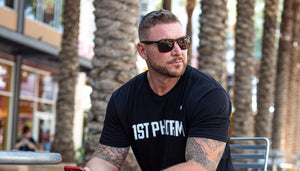 Entrepreneur | Speaker | Sober Coach
At the age of 18 Peter Meyerhoff was sentenced to 12 years in prison.
Life after Prison for many former inmates is anything but a cake walk. Sure, they have their freedom back…. but they also face a host of challenges as they assimilate back into society.

There are many ex-felons whose only wish is to be given another chance. A chance to get a good education, a chance to work, a chance to have their voting rights restored, and a chance to learn a skill, a chance to get another opportunity.

Sober since 7-30-2016
Prison from ages 18-30
LISTEN TO THE PODCAST
Roll Call with Chappy is an inaugural podcast hosted by entrepreneur and motivational speaker, Peter Meyerhoff, curated to inspire and promote self-authenticity.

Designed to provide support through exploring interesting conversations around addiction, mental health and life lessons, while providing actionable steps and tools to encourage change.
Elite Athletes Need Elite Nutrition
Having been a coach and athlete for many years I believe that you're only able to perform as well as the quality of the nutrition you put into your body and that includes supplements. Working with an elite company like 1st Phorm allows me not only take products that have been manufactured for an elite level of performance but they go above and beyond to ensure that you don't have to sacrifice taste for performance. 1st Phorm's products always taste as well as they perform.
Shop Now
★★★★★

Peter is a real inspiration. It takes a lot to be as honest and real as Peter Meyerhoff is in this podcast. Hearing his parents and step mom give him their sides of his struggles was amazing. Great work Chappy! You're going to save countless lives!!!

Chad Seymore
★★★★★

Not much of a podcast person but got into Peters story after watching some YouTube videos with BigHerc. Hands down probably the most interesting podcast i've listen to. Can't wait for more.

JZtheFireman
★★★★★

After hearing this podcast I seriously got choked up. Chappy was just trying to survive in the yard. He was literally thrown to the wolves and came back leading the pack. This first episode truly illustrated "anything is possible" if you're willing to work for it.

Dr. Brute Fit
★★★★★

Thanks for sharing your story. I can relate in small ways to this but couldn't imagine the years you experienced and just wow. I know you somewhat personally but this was amazing stuff. this guy is blessed and has worked hard for what he has. Proud of you!

rvangrouw